Product Summary
The AD5282BRUZ50 is a compatible digital potentiometer. The devices perform the same electronic adjustment function as a potentiometer, trimmer, or variable resistor. Each VR offers a completely programmable value of resistance between the A terminal and the wiper or the B terminal and the wiper.
Parametrics
AD5282BRUZ50 absolute maximum ratings: (1)VDD to GND: -0.3 to 16.5V; (2)VSS to GND: 0 to -7V; (3)VDD to VSS: 16.5V; (4)output voltage to GND: 0 to 7V; (5)maximum junction temperature: 150℃.
Features
AD5282BRUZ50 features: (1)5 V to 15 V single supply; (2)±5.5 V dual-supply operation; (3)Fixed terminal resistance: 20 kΩ, 50 kΩ, 200 kΩ; (4)Low temperature coefficient: 30 ppm/℃; (5)Power-on midscale preset.
Diagrams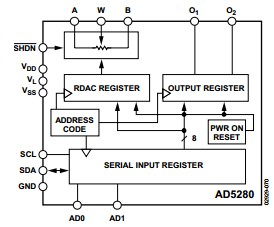 Image
Part No
Mfg
Description
Pricing
(USD)
Quantity

AD5282BRUZ50



IC DUAL POT 50K 256POS 16-TSSOP

Data Sheet



| | |
| --- | --- |
| 0-1: | $2.98 |
| 1-10: | $2.66 |
| 10-100: | $2.18 |
| 100-250: | $1.97 |
| 250-500: | $1.77 |
| 500-1000: | $1.49 |
| 1000-2500: | $1.42 |


AD5282BRUZ50-REEL7



IC POT DGTL 50K 256POS 16TSSOP

Data Sheet