Product Summary
The AD9236BRUZRL7-80 is a monolithic, single 3 V supply, 12-bit, 80 MSPS analog-to-digital converter featuring a high performance sample-and-hold amplifier (SHA) and voltage reference. The AD9236 uses a multistage differential pipelined architecture with output error correction logic to provide 12-bit accuracy at 80 MSPS and guarantee no missing codes over the full operating temperature range.
Parametrics
AD9236BRUZRL7-80 absolute maximum ratings: (1)AVDD to AGND: -0.3 to 3.9V; (2)DRVDD to DGND: -0.3 to 3.9V; (3)AGND to DGND: -0.3 to 3.9V; (4)storage temperature: -65 to 125℃; (5)lead temperature: 300℃.
Features
AD9236BRUZRL7-80 features: (1)Single 3 V supply operation (2.7 V to 3.6 V); (2)SNR = 70.4 dBc to Nyquist; (3)SFDR = 87.8 dBc to Nyquist; (4)Low power: 366 mW; (5)Differential input with 500 MHz bandwidth; (6)On-chip reference and sample-and-hold; (7)DNL = ±0.4 LSB; (8)Flexible analog input: 1 V p-p to 2 V p-p range.
Diagrams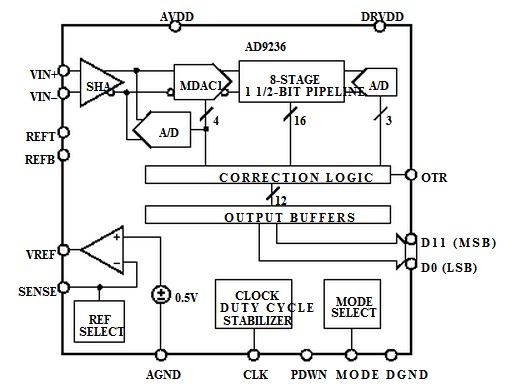 Image
Part No
Mfg
Description
Pricing
(USD)
Quantity

AD9236BRUZRL7-80



IC ADC 12BIT 80MSPS 28TSSOP

Data Sheet


Image
Part No
Mfg
Description
Pricing
(USD)
Quantity

AD9200

Other



Data Sheet

Negotiable

AD9200ARS



IC ADC CMOS 10BIT 20MSPS 28-SSOP

Data Sheet



AD9200ARSRL



IC ADC 10BIT CMOS 20MSPS 28-SSOP

Data Sheet



AD9200ARSZ



IC ADC 10BIT CMOS 20MSPS 28-SSOP

Data Sheet



| | |
| --- | --- |
| 0-1: | $3.50 |
| 1-10: | $3.15 |
| 10-100: | $2.59 |
| 100-250: | $2.38 |
| 250-500: | $2.17 |
| 500-1000: | $1.89 |
| 1000-2500: | $1.86 |


AD9200ARSZRL



IC ADC 10BIT CMOS 20MSPS 28-SSOP

Data Sheet



AD9200JRS

Analog Devices Inc

IC ADC 10BIT CMOS 20MSPS 28-SSOP

Data Sheet